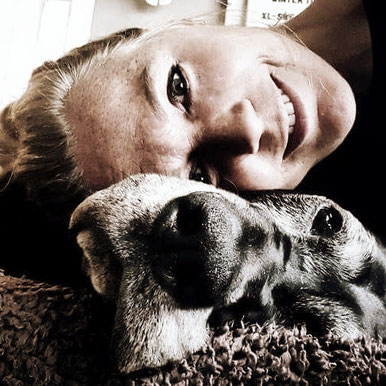 I while back I read a tweet from someone who asked their vet what the hardest part of their job is. The answer she got was 'when I have to put an animal down, 90% of owners don't actually want to be in the room when I inject them, so the animals last moments are usually them frantically looking around for their owners'....
As you can probably imagine, this answer broke me, like it did the girl who tweeted it and many people more; the tweet went viral and has been retweeted almost 50.000 times.
I myself am the proud mom of my girl, Great Dane Noa, who is now little over 8,5 years old. I think it goes without saying that I'm dreading the day she will leave me, but I do know 1000% sure I will be right by her side if it is up to me. 
If I have to have her euthanized, it will be done in our own home, right there where we made millions of memories. When her time comes I will be cradling my girl in my lap, while whispering soothing words in her ear, regardless of how distraught I am... My girl deserves nothing less than my presence, especially then! Through thick and thin...
Curious to learn your thoughts on this; will you stay with him/her when the time comes?